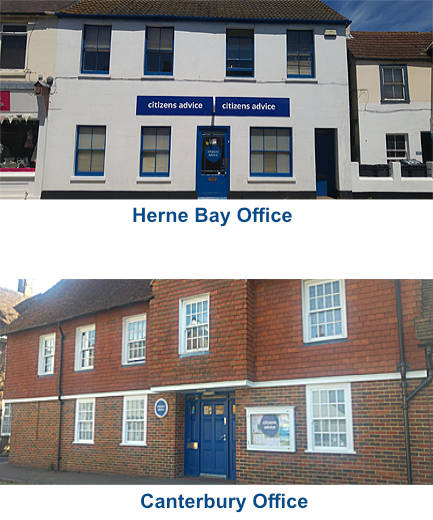 Citizens Advice Canterbury District
Welcome to Citizens Advice Canterbury District.
We provide the people of Canterbury District, including Herne Bay, Whitstable and the surrounding towns and villages with free, confidential, impartial and independent advice and information on their rights and responsibilities.
The Citizens Advice Service Aims:
To provide the advice people need for the problems they face
To improve the policies and practices that affect people's lives
We are a charity.  Learn more about us.
How can we help?
Get advice online from Citizens Advice
How to Contact Us for Help
Phone our Adviceline on 0808  278  7846 (Freephone)
or contact…  Canterbury | Herne Bay | Whitstable
Visit our National website www.citizensadvice.org.uk where you can also chat to an adviser online.
For help claiming Universal Credit:
Phone: 0800 144 8 444
Textphone: 18001 0800 144 8 444
Macmillan Welfare Benefits
We run the local (East Kent) Macmillan welfare benefits advice service for people, carers and their families that are affected by cancer.
Further information.
Need Energy Advice?
Your Local Charity
Yes, we are a local, independent charity!  Not everyone realises this and we need your help.  Please help us to help more LOCAL people in the Canterbury area.
Volunteer with us
Our highly trained volunteers come from all sorts of backgrounds and help with everything we do.
See the roles we're currently recruiting for. Could you become one of our volunteers?
Research & campaigning
Citizens Advice Canterbury District works at a local, regional and national level to speak up about the policies and services that cause people problems.
The stories our clients tell us provide a unique insight into the problems faced by the people in the Canterbury District.
> Read about the National campaigns here
How you can help